Redesigning the system
QUT researcher works to mend the fashion industry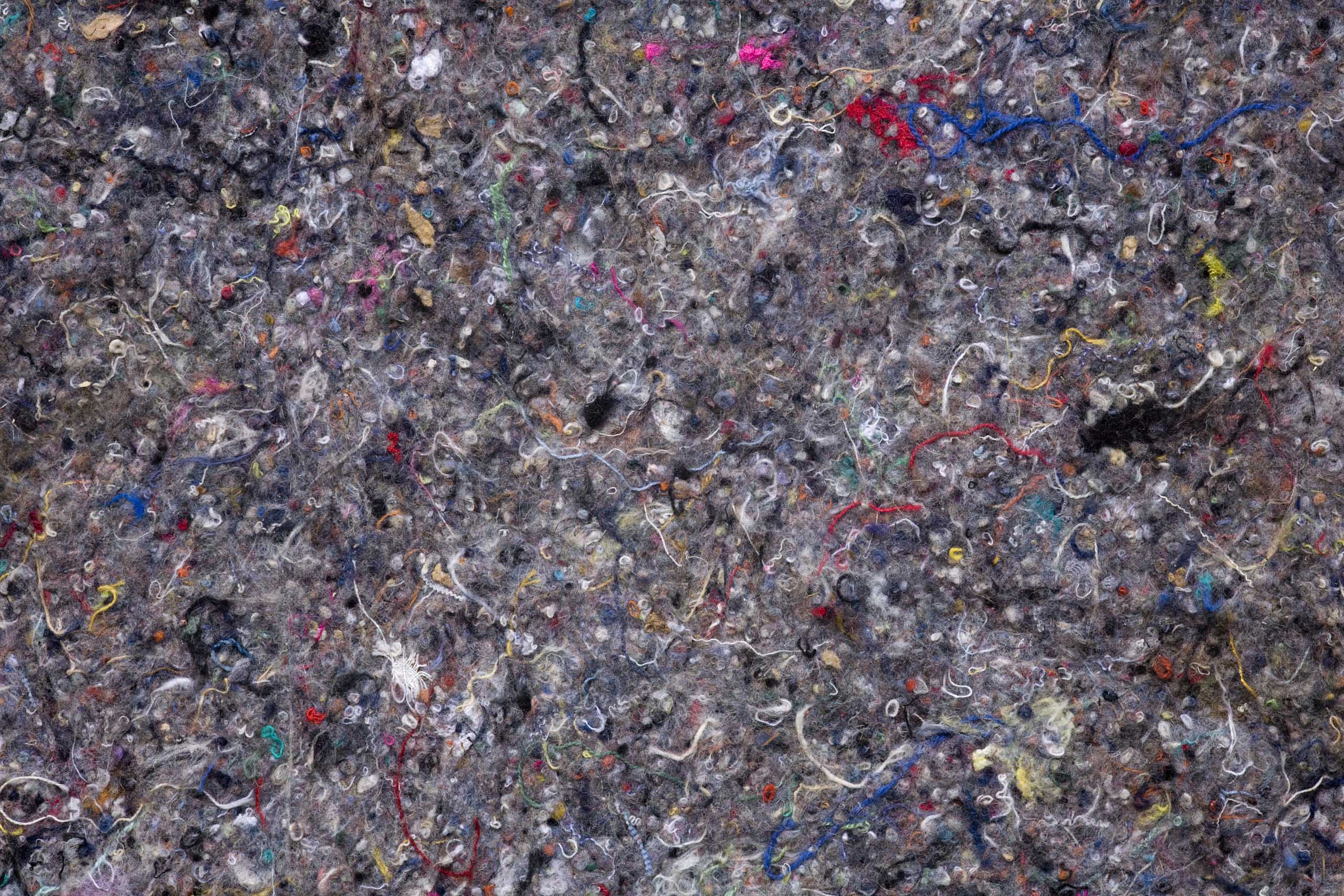 One way or another, we all participate in the fashion system.
But most of us give little thought to how it works.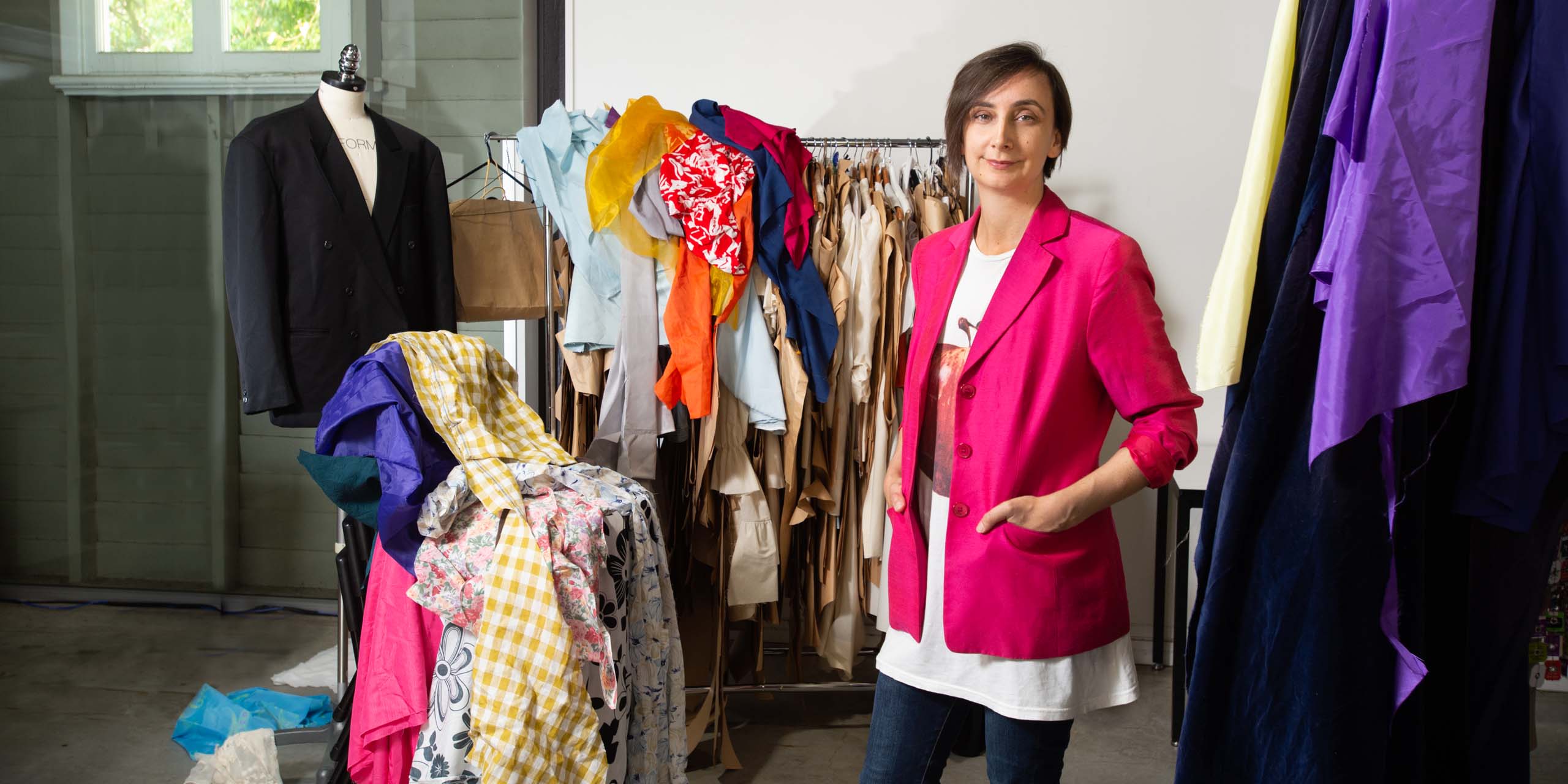 She collaborates with industry partners operating at all stages of the fashion lifecycle – working to understand its areas of dysfunction, and where we can intervene to create an industry that is both better for its workers and kinder to the planet.
A clear area for improvement is
waste.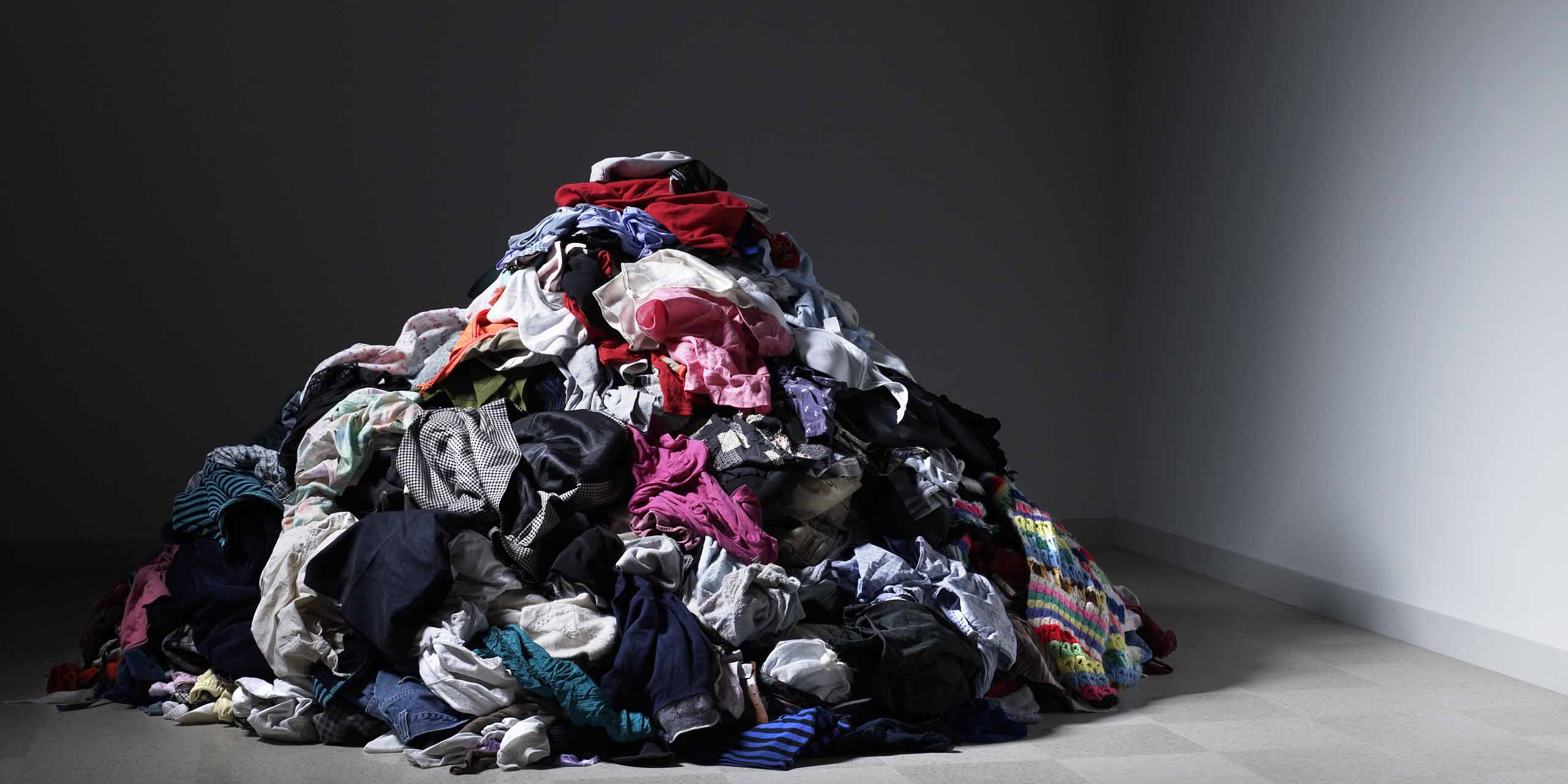 We produce some


110 million tonnes

of textiles each year.
And discard around


92 million tonnes

in the same period.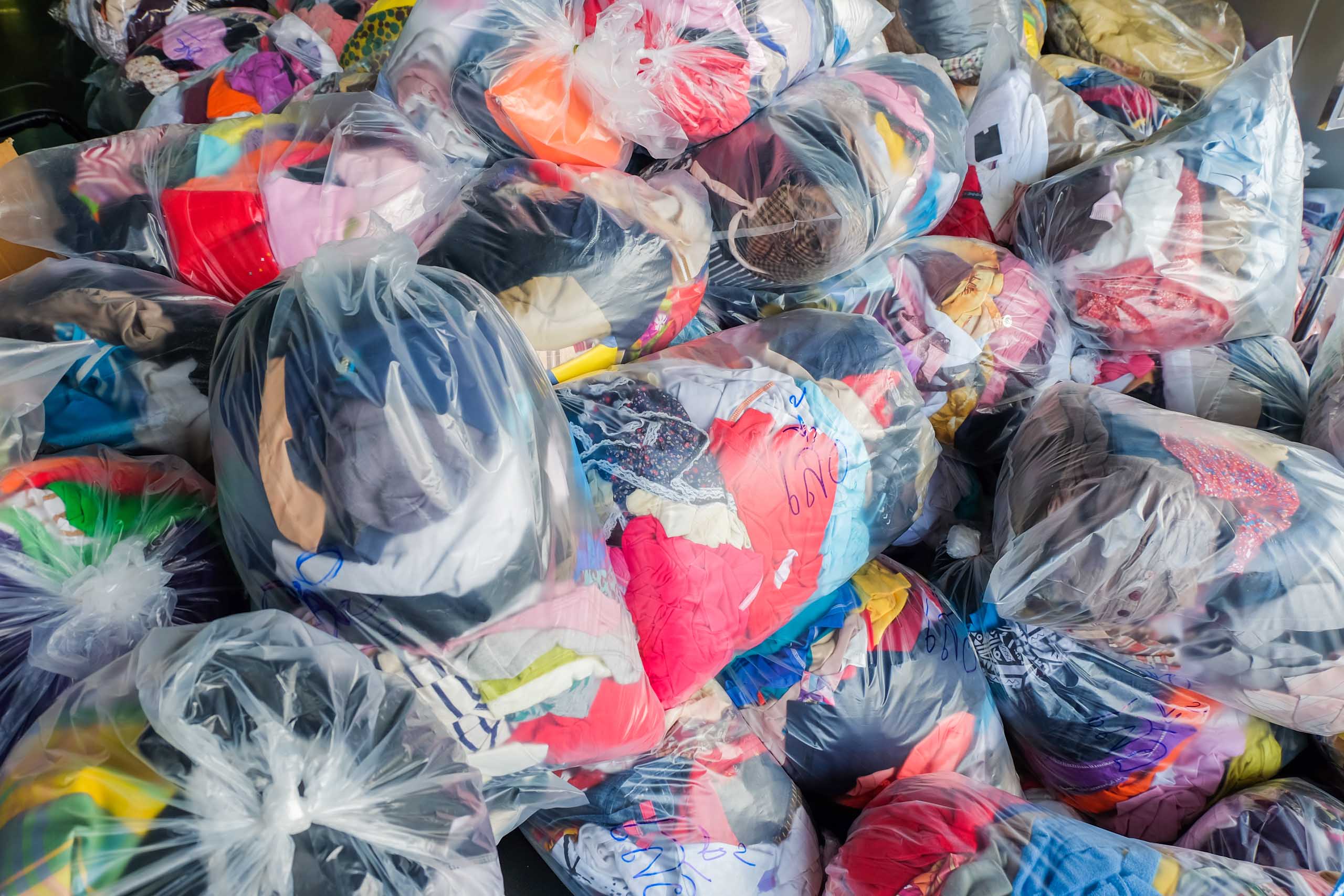 The fact that these figures are almost equal in number lays bare an uncomfortable truth.


Year after year we make textiles, use them, and then discard them almost straight away.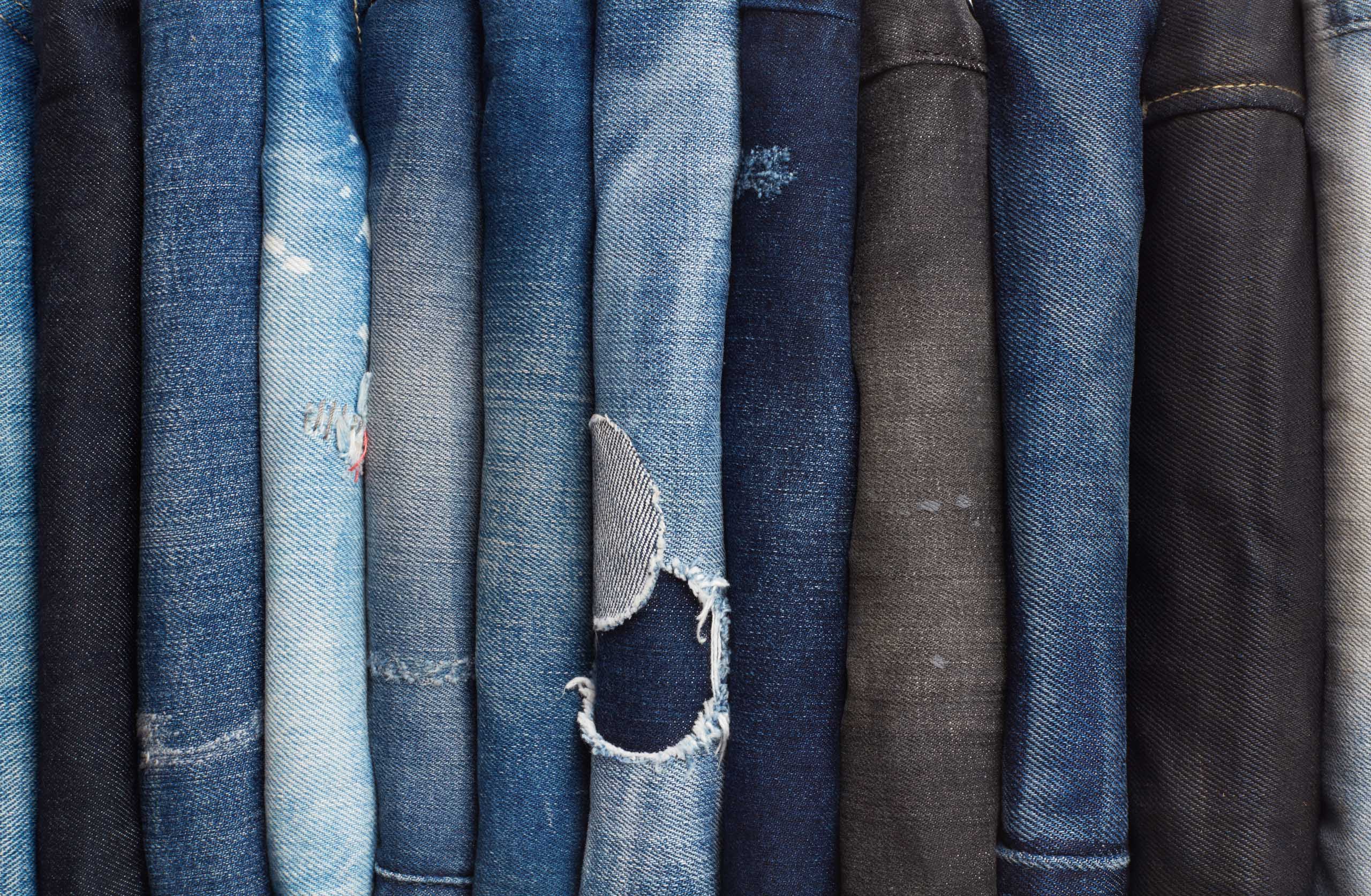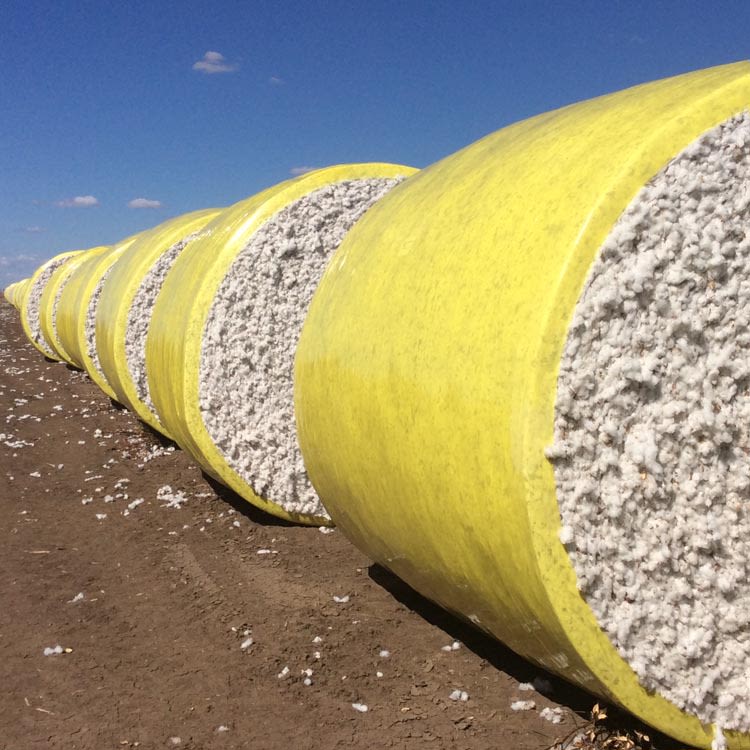 "Think of all the time, resources, energy, water and chemicals that have gone into something that quickly ends up in landfill. At the heart of that is a flawed system," Payne says.
Payne is attacking this issue from several angles, collaborating with industry partners and QUT colleagues to design solutions. 
At the point of raw fibre, she has worked on a number of projects funded by the Cotton Research Development Corporation (CRDC), a partnership between the Commonwealth Government and Australian cotton growers. These projects seek to follow raw fibre through its value chain to understand the social and environmental issues beyond the farm gate through to manufacturing and retail.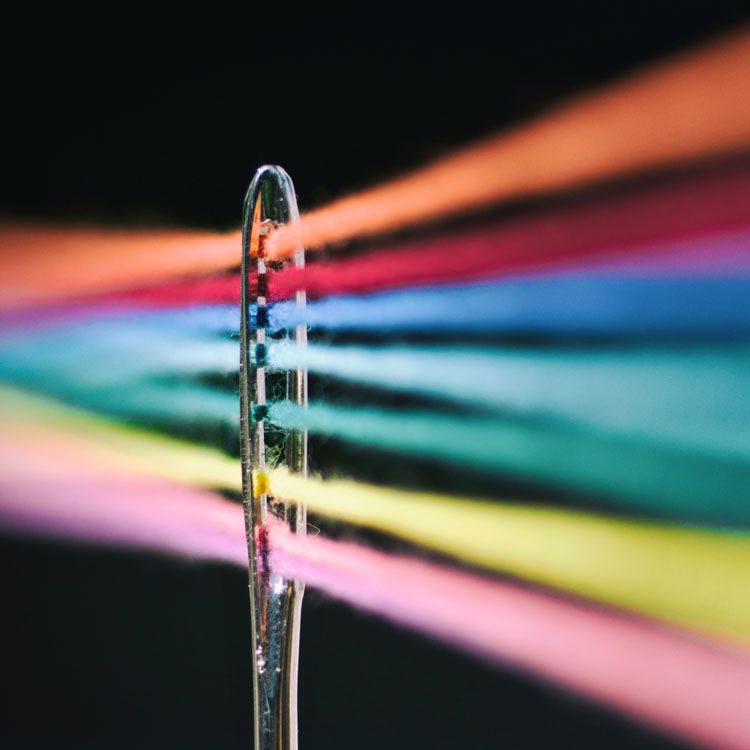 Another point of intervention is fibre separation. Payne collaborated with QUT colleagues  Professor Rob Speight, Dr Laura Navone, and Dr James Blinco on a project to create a method for separating natural fibres such as wool from polyester. Blended natural and polyester fabrics are common, and up until now they have been destined for landfill. 
The presence of polyester meant the natural fibres could not be broken down, and there was no way to capture the polyester for reuse. That has now changed. Following this project, in 2018, the clean technology company BlockTexx began working with QUT to create a process that separates cotton and polyester, another blend commonly found in clothing.
Another challenge at the end of the garment life cycle is disassembly. We may have a process to separate and reuse the fibres in a garment, but what about the trims and buttons? Great strides have been made in some parts of the world with automating textile recycling. But the sticking point is disassembly, which is still a manual process.  
Payne and her collaborators including Dr Frederic Maire (Robotics), Dr Chris Lehnert (Robotics) and Dr Rowena Maguire (Law) have been looking at how robotics could be used to change this. As a proof of concept, the team has created a vision system that allows a robot to identify a button and then snip it off.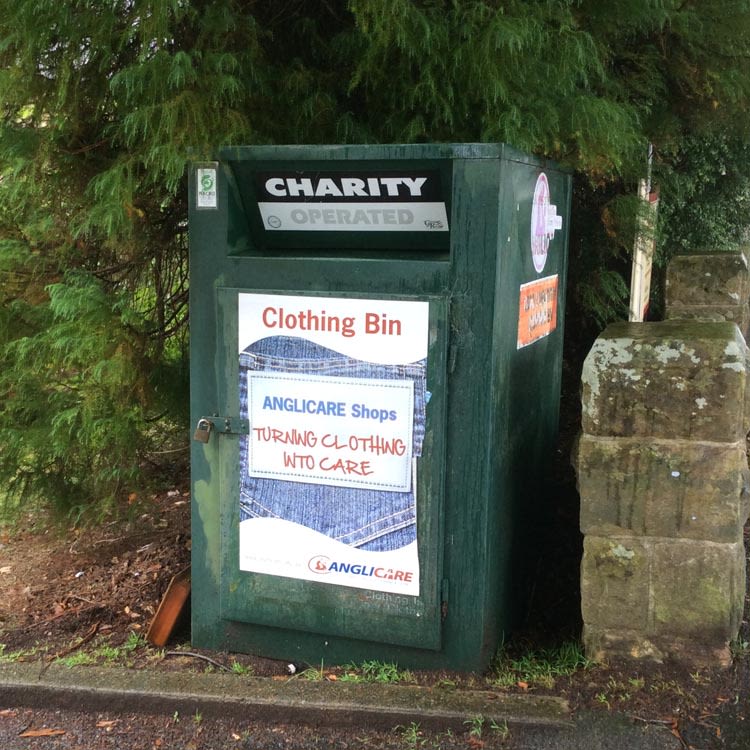 In partnership with an Australian charity, Payne is looking at how robots and people could work side by side, introducing efficiencies at sorting centres that are swamped with waste. The project is not looking to replace workers with automation, but rather considering how robotics could augment the process.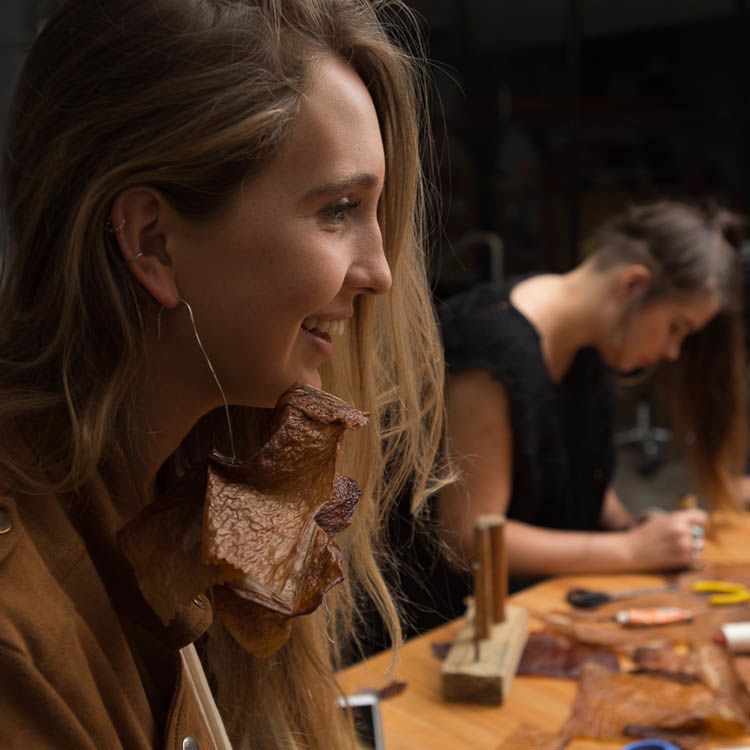 A first-year Fashion student wearing a dried kombucha earring.
And what about cultural change? It's one thing to have innovative ways to recycle materials, but far more profound are the shifts in thinking and behaviour that are required. 
"Researchers can't pretend that we can just fix supply chain issues and it will all be fine. We have to acknowledge the root causes that are far more resistant to change," Payne says.
Students in fashion are beginning to display a shift in mindset, with sustainability issues becoming increasingly core concerns within their work. Since 2012, Associate Professor Payne has led the way in teaching sustainable fashion to these students, with her approaches adopted by educators in Australia and overseas.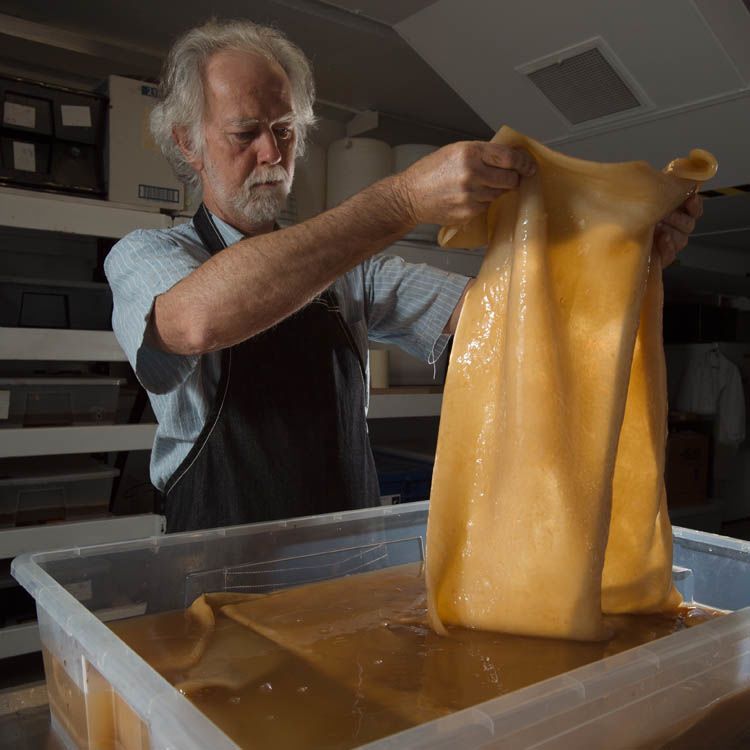 Dr Musk, a science catalyst at The Edge with a kombucha leather prototype.
Her strong ties with industry have enabled her to develop real world tasks and experiences for students, such as reporting on environmental and social impacts for an industry association, and devising awareness-raising initiatives to reduce textile waste. 
She challenges students to consider themselves not only as designers of garments, but also as designers of new ways of wearing and making fashion. The quality of her curriculum has been recognised through take-up of the approach at other institutions such as Massey University, New Zealand.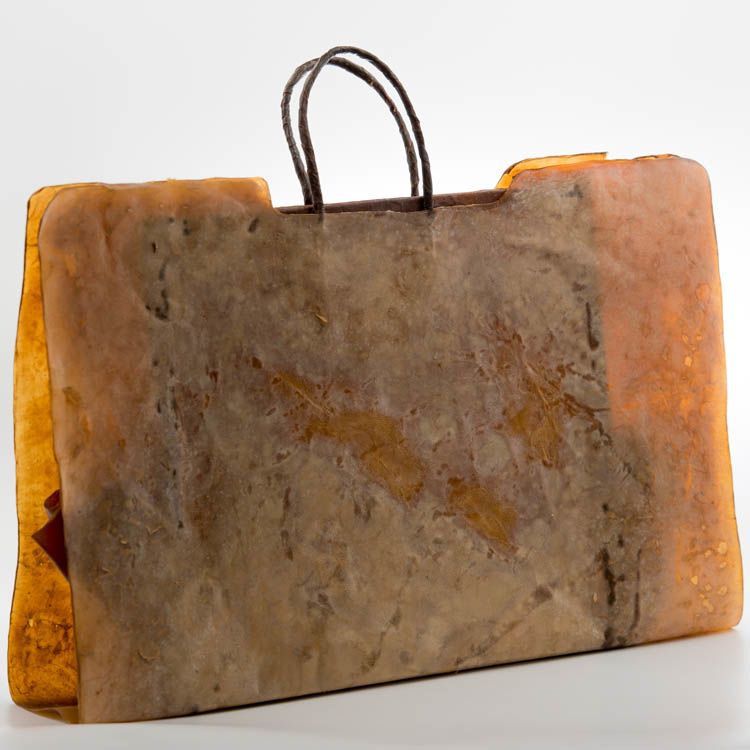 A concept design for a bag made from dried kombucha.
Payne and QUT colleague Dean Brough also partnered with Dr Peter Musk at The Edge maker space in the State Library of Queensland on a project in which students grow and use a biodegradable 'vegan leather'. 
"Working with this material upturns students' expectations. It prompts their creative and divergent thinking – why shouldn't we completely rethink how cloth can be made?" Payne says.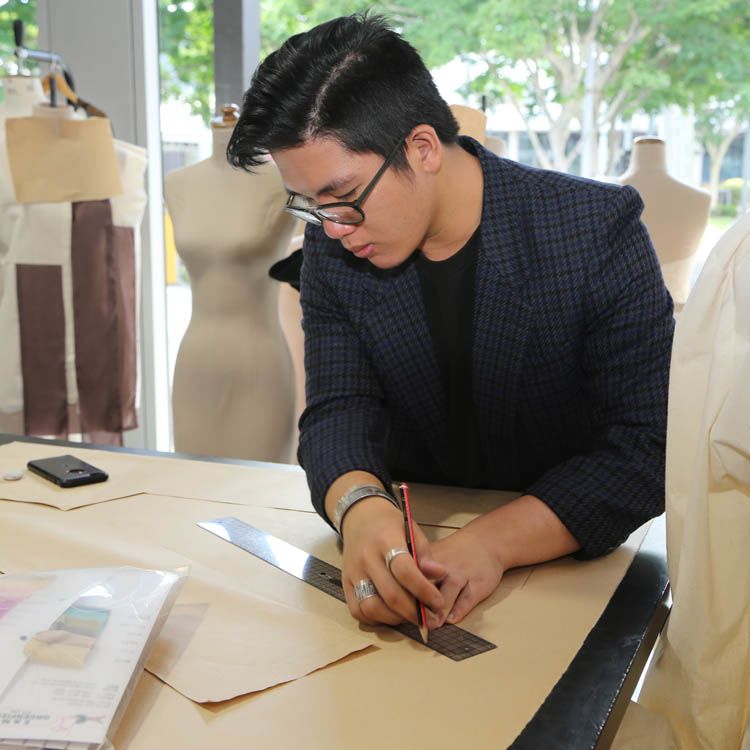 Fashion graduate and Woolmark Scholarship recipient Joash Teo works in QUT's studios based in Kelvin grove, Brisbane.
The only future for the fashion industry is one in which environmental and ethical practice is at the core. Through her research, her partnerships and her teaching, Associate Professor Payne is doing her bit to lead the industry into this new era.